The 14th edition of Job Shadow Day closes with a round table on the theme of leadership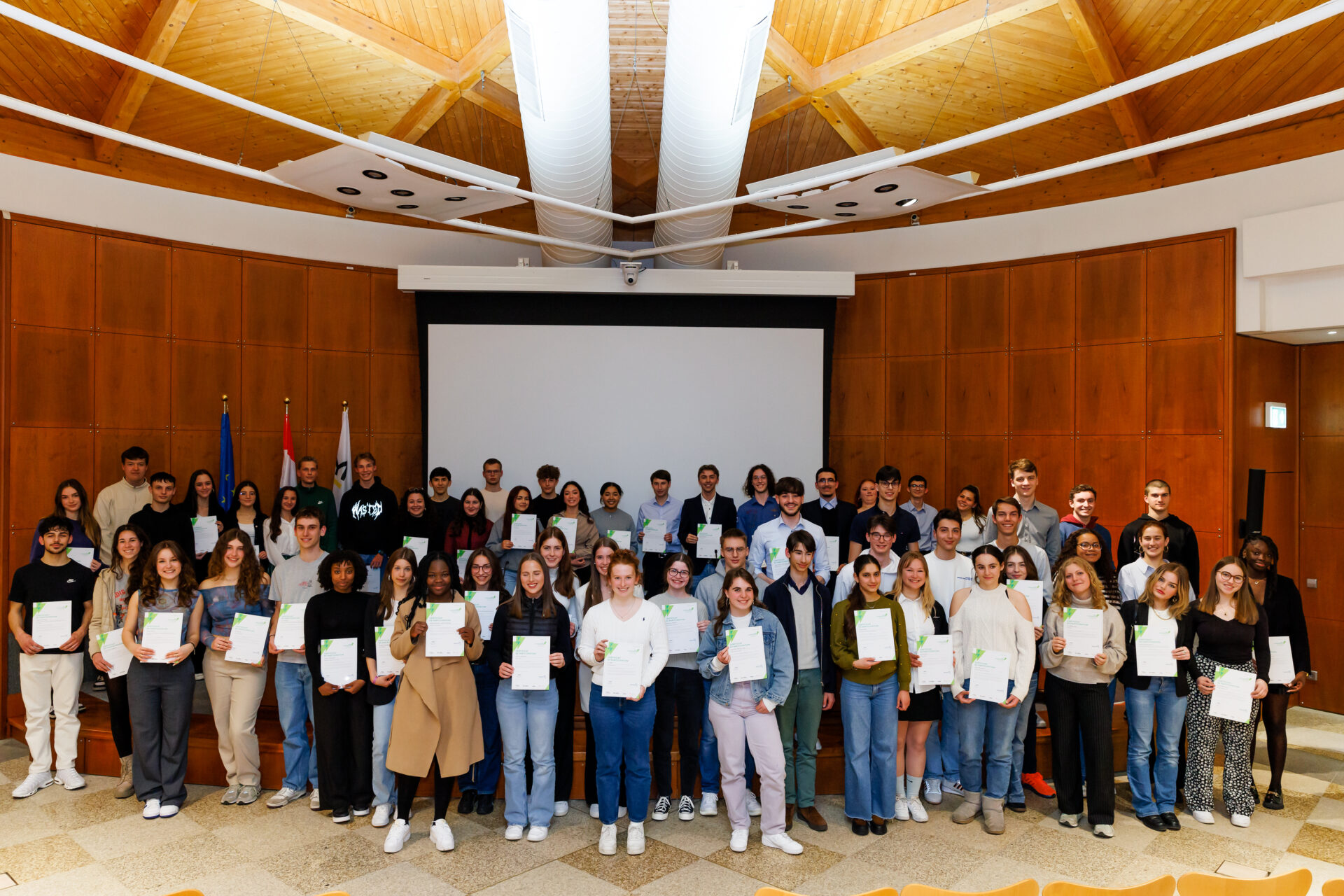 The 14th edition of the Job Shadow Day (JSD) programme, which ran from 27 March to 31 March 2023, brought together all participants for a closing event on Tuesday 18 April. The JSD is organised in collaboration with the Ministry of Education, FEDIL – The Voice of Luxembourg's Industry, the Chambre des Métiers and the Chambre de Commerce.
150 students from 29 secondary schools participated in the programme and were able to gain insight into the role of a company manager in 100 companies. The experience that the JSD programme offers, differs from a simple company visit, as the students can observe a manager performing the daily tasks of the job for a whole day. In this way, students get an idea of the responsibilities of a company manager and gain important impressions of working life.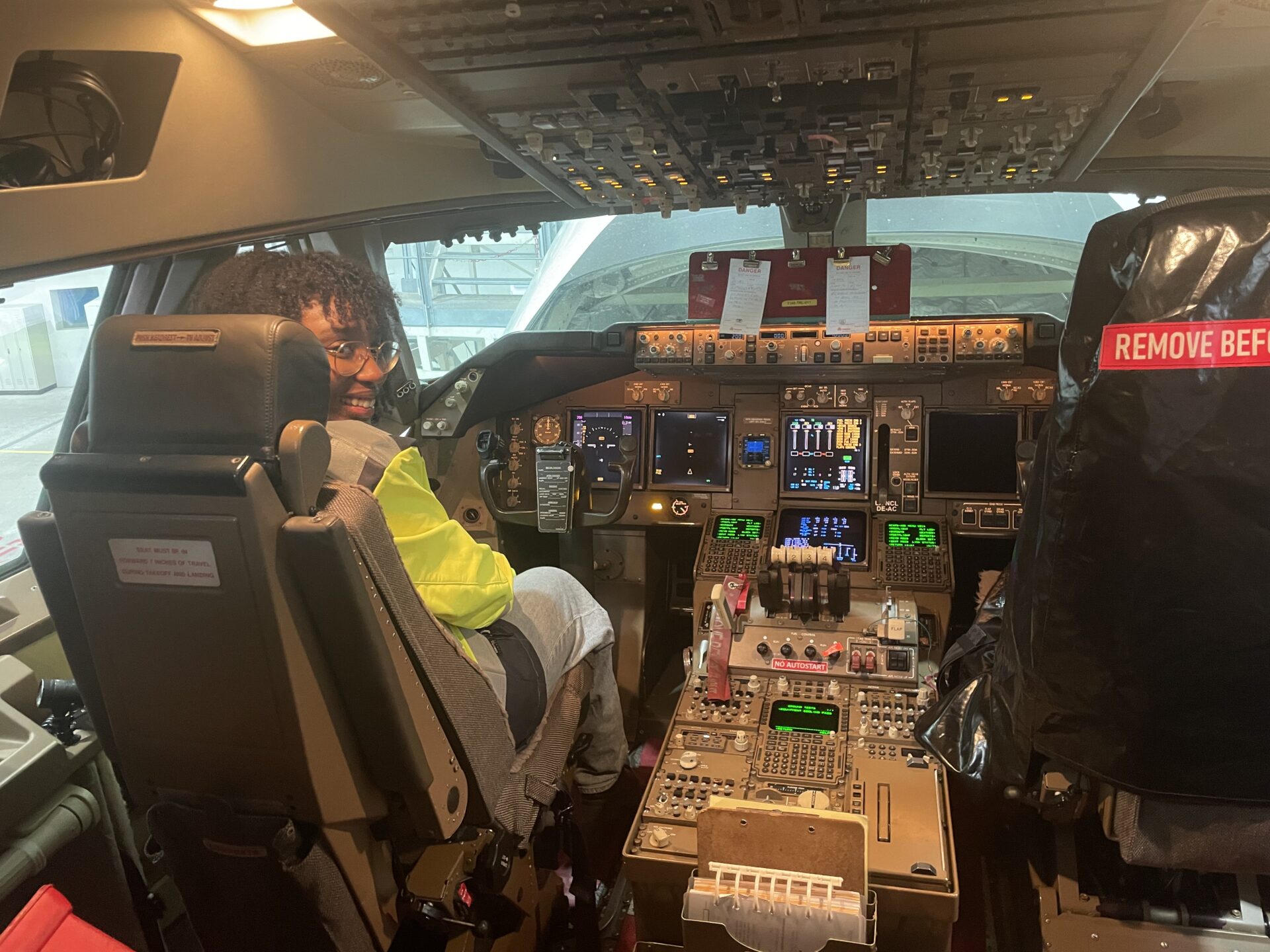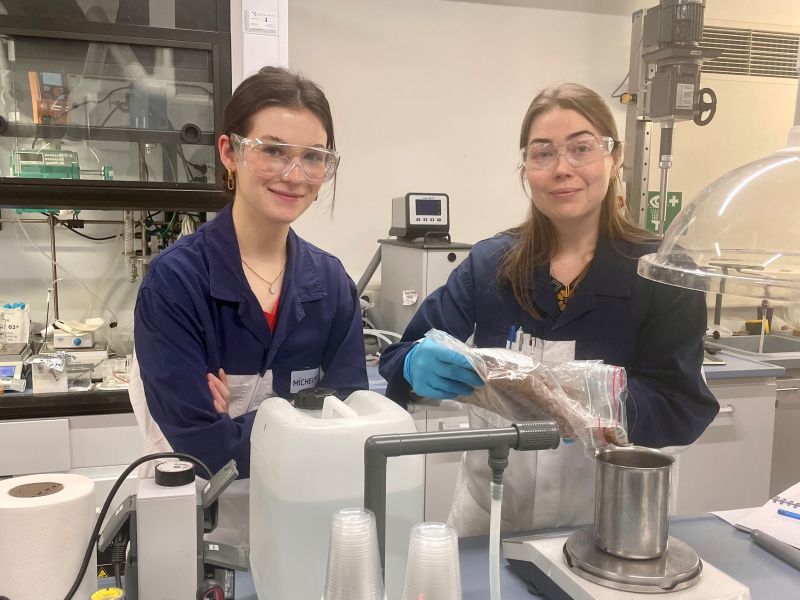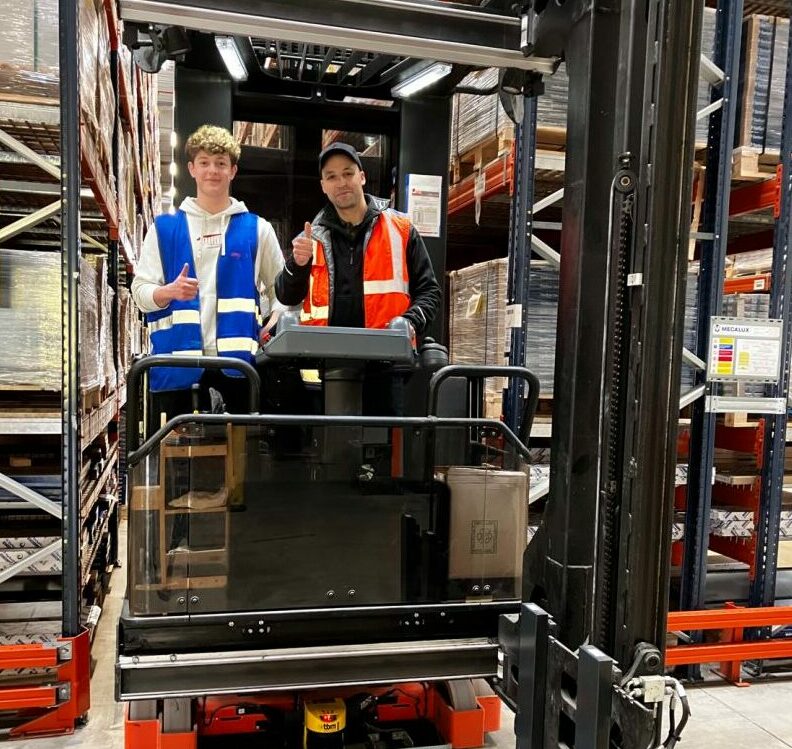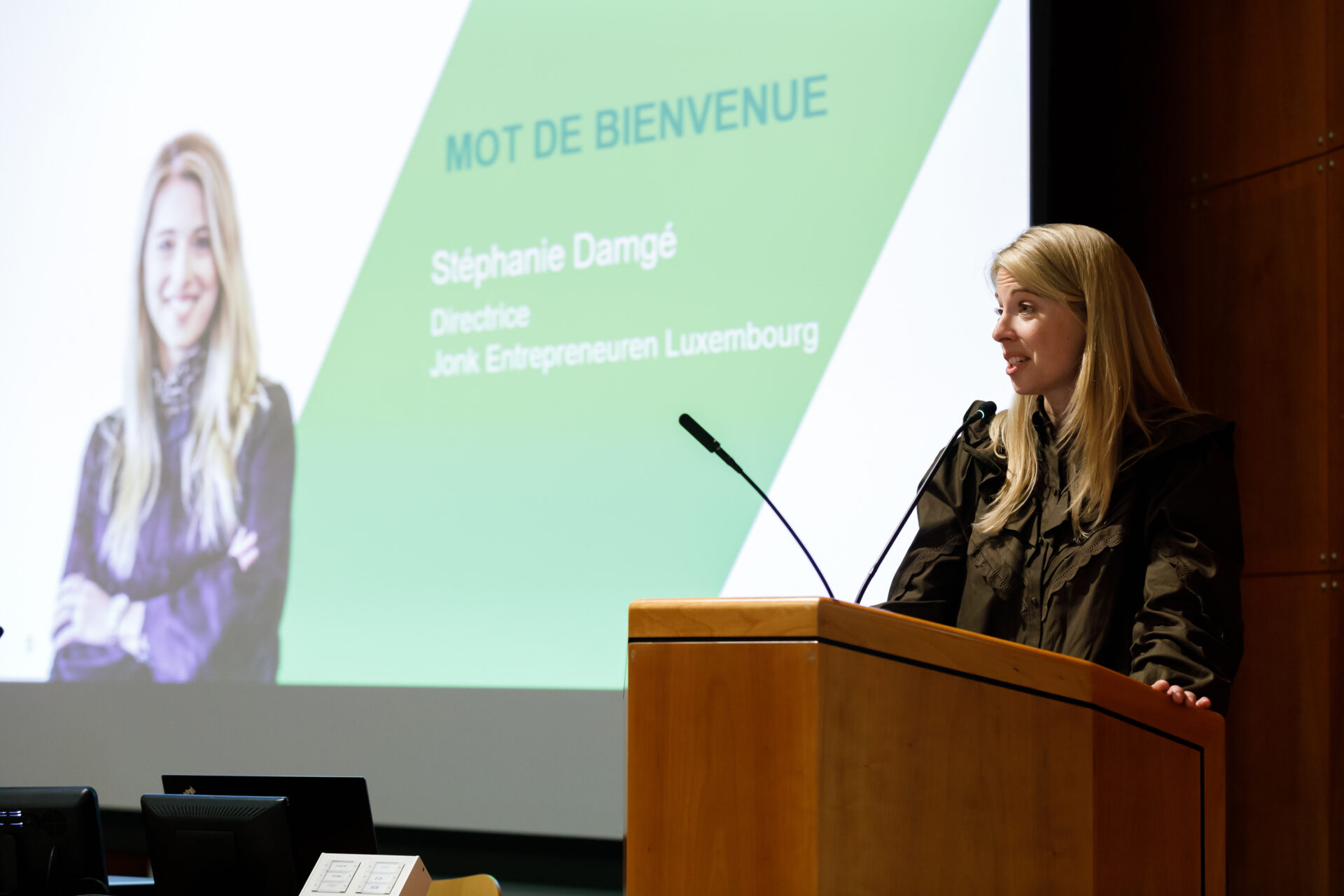 Stéphanie Damgé, CEO of Jonk Entrepreneuren Luxembourg, says: "Job Shadow Day offers a unique experience to young people, allowing them to discover the world of work, the functioning of a company, and the current and future professional requirements. It is important to welcome young people into companies to inspire, motivate and prepare them for the future of work.
Panel discussion: Leadership skills, what it takes to be a good leader.
Stanislas Dutreil, LHH Luxembourg (Badenoch+Clark and Spring Professional), Vojtech Seman, Rejustify, Elisabete Amorim, Wellington Management Luxembourg and Nathalie Hebert, Cebi International discussed the theme of leadership.
In this context, Stanislas Dutreuil explained the evolution of leadership over the last few years: "In the past, leadership was reduced to people with strong management experience or to those who showed real creativity as an entrepreneur. In many companies, many people have made a shortcut by defining a leader as a manager, or a manager as a leader.
Au cours de la dernière décennie, nous avons eu l'occasion d'analyser une évolution. Pour la jeune génération, avec ses nouveaux codes, ses nouvelles règles et sa nouvelle façon de penser… un leader est quelqu'un capable d'inspirer, de communiquer le sens réel de chaque tâche et de travailler avec une organisation plate […]. Par conséquent, les entreprises, grandes ou petites (car toutes les entreprises sont concernées), doivent réinventer le management intergénérationnel pour maintenir un esprit collectif au sein de leur organisation, et définir une vision collective pour leurs employés [traduit de l'anglais en français]. »
La table ronde s'est terminée par les conseils donnés par les trois leaders aux élèves pour leur future carrière. Tous étaient d'accord sur un point : oser poser des questions et être curieux est le plus important !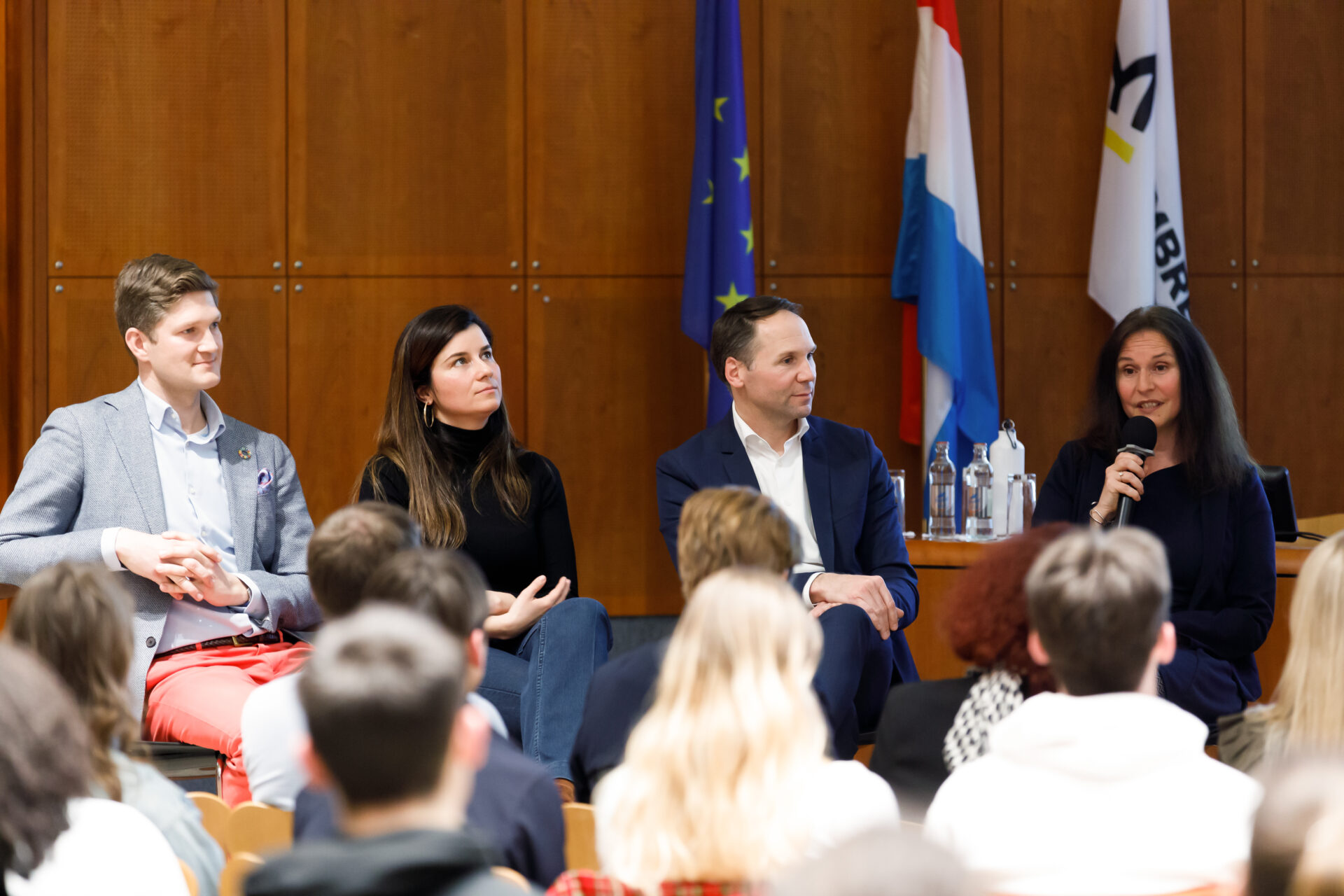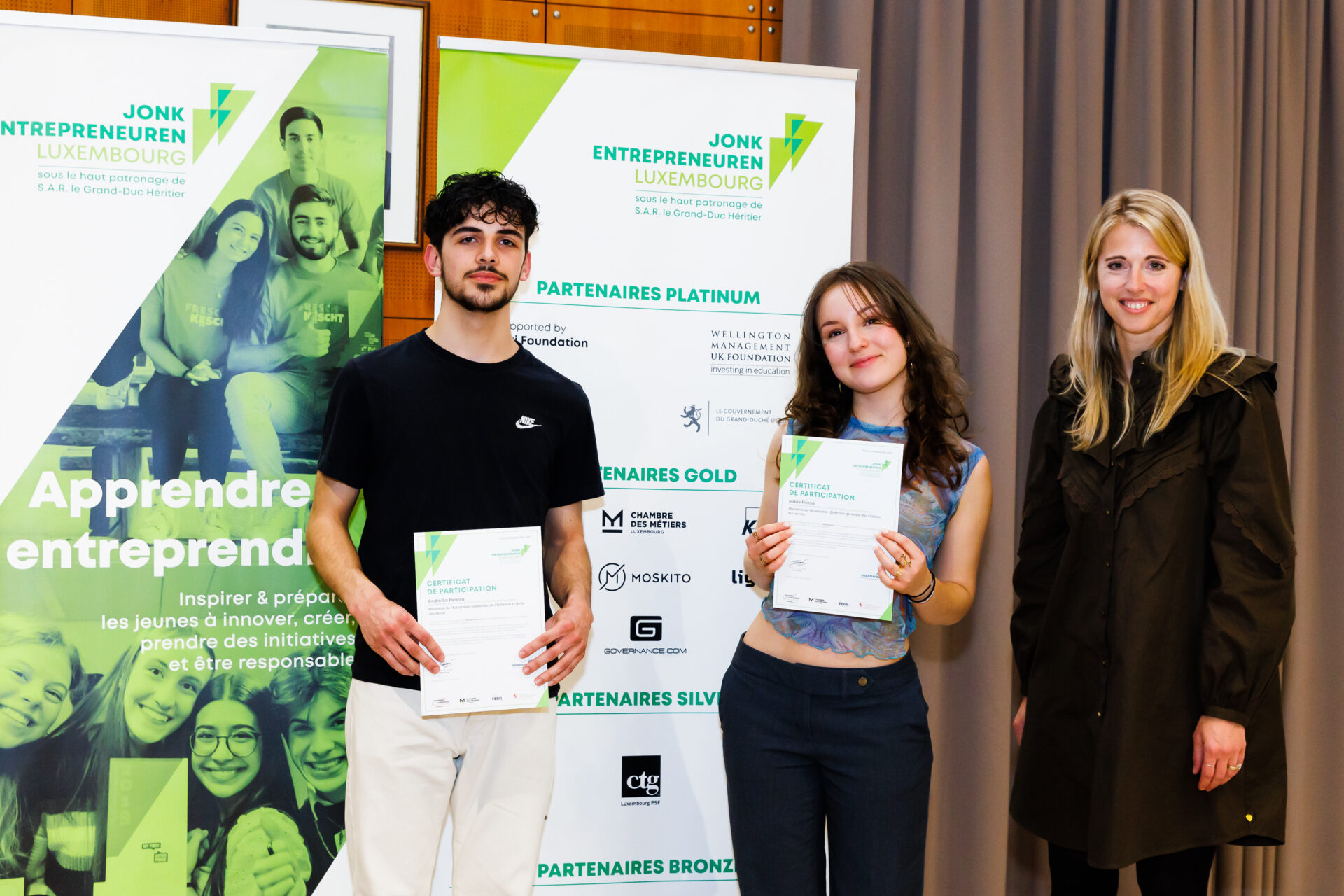 Political Shadow Day
As part of the JSD this year, four students were given the opportunity to participate in a Political Shadow Day. Lex Delles, Minister for the Middle Classes and Tourism, and Claude Meisch, Minister for Education, Children and Youth, each hosted two students for a working day.
Marie Nesca and André Sa Pereira, two students who participated in this Political Shadow Day noted that both had a positive experience meeting the politicians. Marie stressed that Political Shadow Day had "more than exceeded her expectations". Both students were especially surprised by the openness with which they were able to talk to the ministers and said that they felt at ease asking them questions.
Awarding of certificates
The event concluded with the presentation of certificates of participation to the students, followed by the traditional group photo.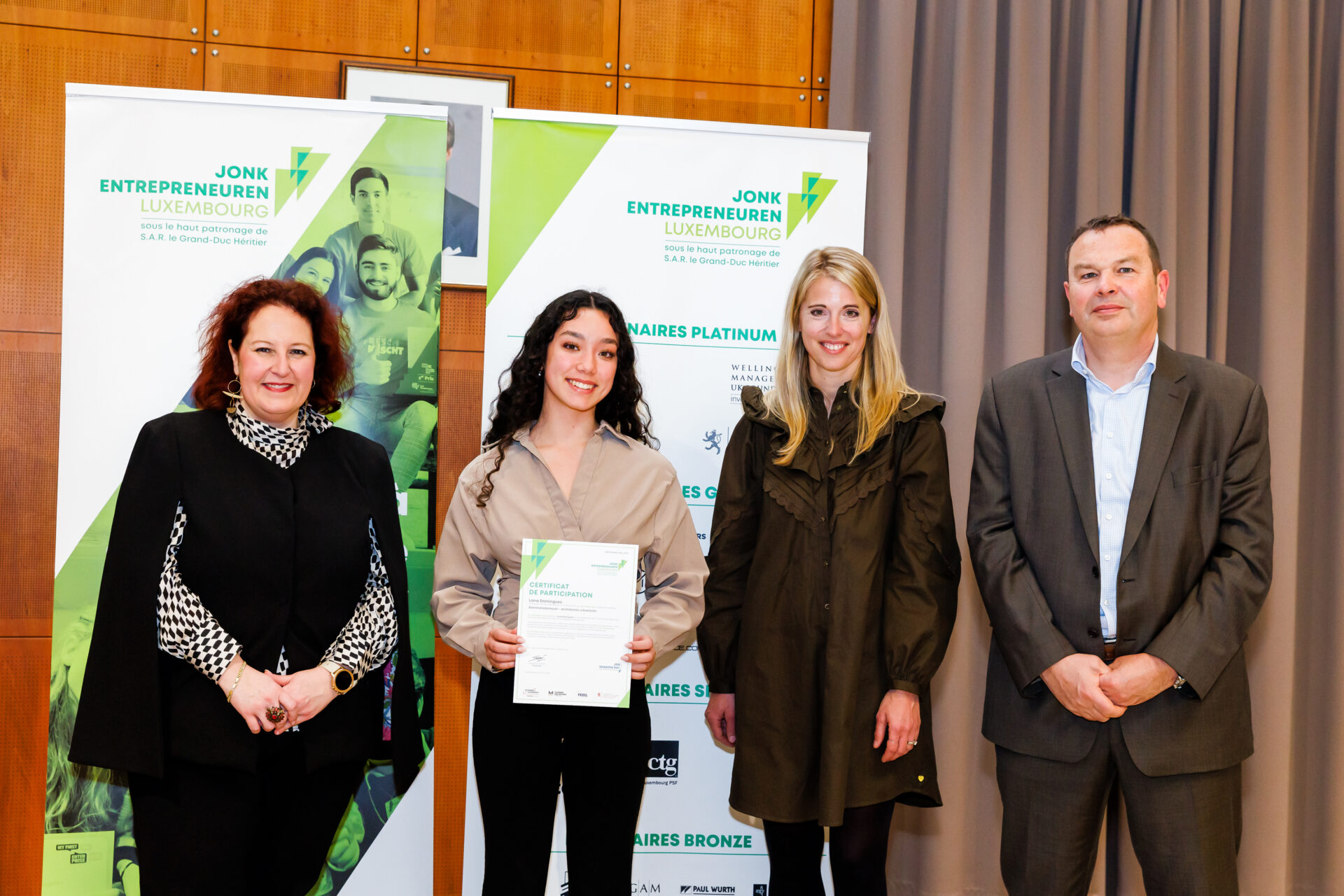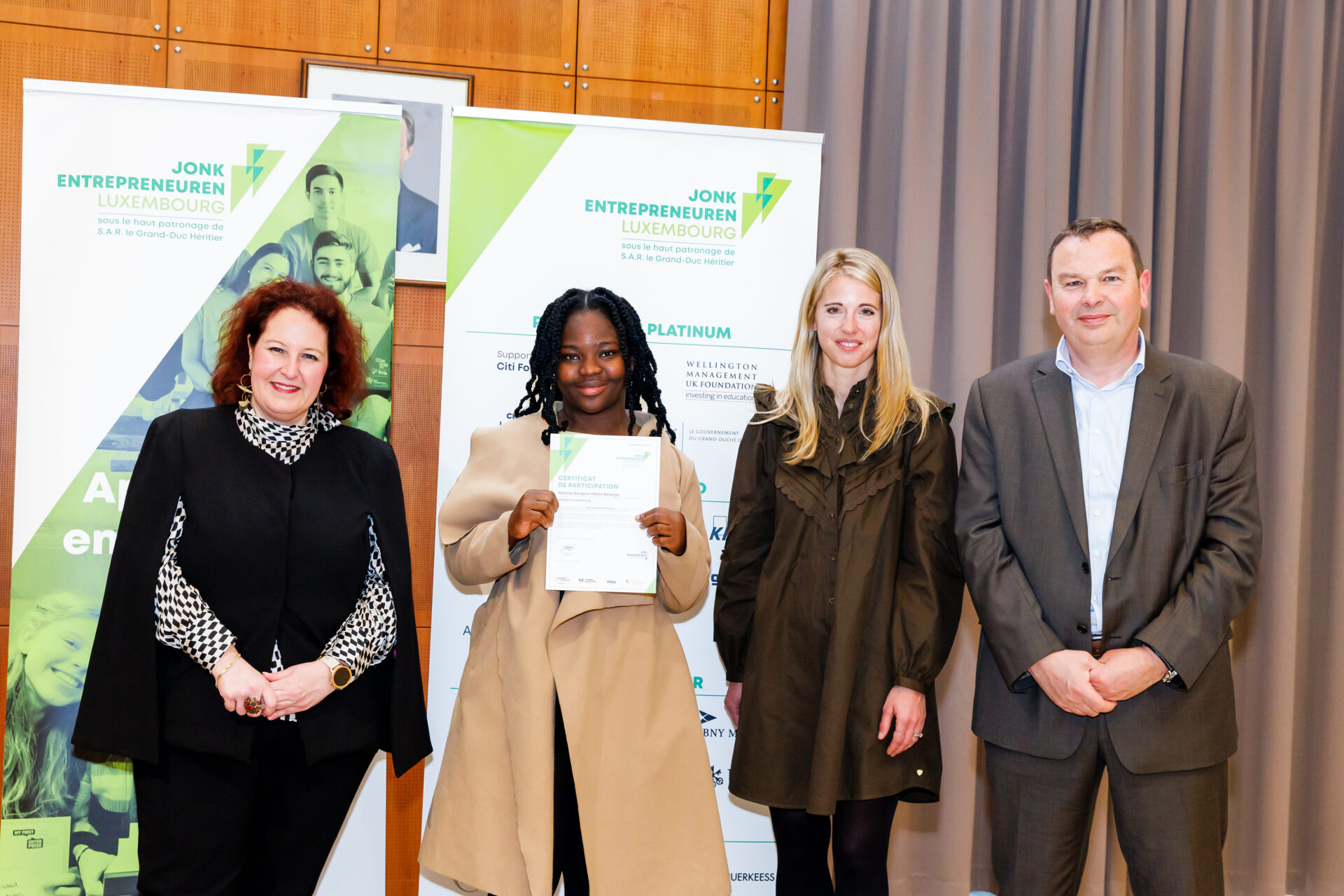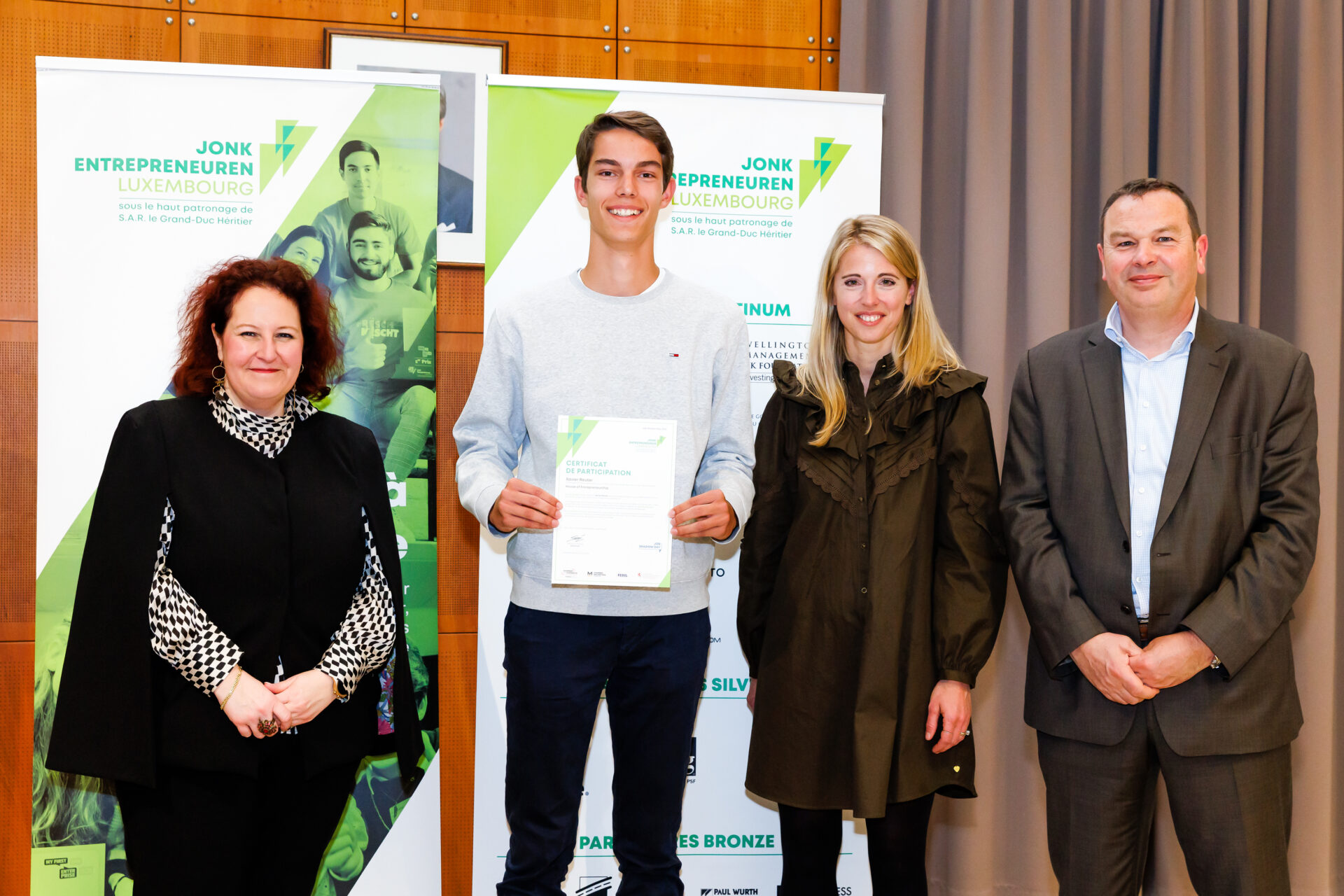 About the Job Shadow Day programme
Job Shadow Day allows students to discover :
the importance of a relevant school education
the demands of the labour market
the meaning and importance of teamwork within a company
information on the different career paths and their development possibilities
For companies, Job Shadow Day offers the possibility to :
share their professional experience and knowledge with future job seekers and/or entrepreneurs
get in touch with young people and find out about their attitudes, interests, aspirations and perspectives
show their field of activity to future job seekers
leave a positive image of the company
Jonk Entrepreneuren Luxembourg thanks all 100 participating companies:
A Beautiful Green, Accenture Luxembourg, ALIPA Group, Amazon, Anderson Wise, Apollo Strategists, Arendt & Medernach, Association Luxembourgeoise des Fonds d'Investissement (ALFI), Avery Dennison Luxembourg, Badenoch+Clark (LHH Recruitment Solutions), BakerMcKenzie, Bamolux, BNY Mellon, BONARIA FRERES SA, Brasserie Nationale SA, BRINKS, BSP, CapitalatWork Foyer Group S.A., Capitole Consulting, CAR AVENUE By Lentz, CAR AVENUE Luxembourg , Cargolux Airlines, CDCL Promotions S.à r.l., Cebi International S.A., Cebi Luxembourg SA, cegecom s.a, CERATIZIT Sarl, CFL logistics, CFL technics, Chambre de Commerce, House of Entrepreneurship, Chambre des Métiers, Cimalux S.A., Croix-Rouge luxembourgeoise, DuPont de Nemours, Dussmann Service, Econocom PSF, Eldoradio (Luxradio Sàrl), elisabeth handicap, elisabeth-anne asbl, Encevo S.A., Goblet Lavandier & Associés Ingénieurs-Conseils S.A., Goodyear Operations SA, Governance.com, GUARDIAN LUXGUARD II SARL, Hein Group sàrl, HITEC Luxembourg S.A., House of Startups, House of Training, IKO Development S.A., ING LEASE LUXEMBOURG, ING Luxembourg , ISOMONTAGE ISOLATION S.A., Janus Henderson Investors Europe S.A., Karp Kneip Construction, KPMG Luxembourg, Laboratoires Réunis, Lëtzebuerger Journal, Lightbulb sàrl
LOEWE REFRACTORY SERVICE BENELUX SARL, Losch Luxembourg, LSC Enineering Group SA, Luxair, Luxembourg Private Equity & Venture Capital Association (LPEA), Luxembourg Stock Exchange, Luxembourg-City Incubator SA, LUXINNOVATION GIE, Luxplan SA, Luxport Group, Marc Pesch Sàrl, Mate SA (Lemon Event Support), MICHELMAN INTERNATIONAL SARL, Moutarderie de Luxembourg Sarl, Munhowen S.A., NOVUS Renovation s.à r.l., Paul Wagner et Fils S.A., Paul Wurth S.A., Peakside Capital Advisors, PERRARD SA, POST Luxembourg, PROXIMUS Luxembourg SA, PwC Luxembourg, Rejustify S.à r.l., ROCKHAL, Sablière Hein sarl, Schroeder & Associés S.A., Silversquare Luxembourg, SODEXO Luxembourg SA, SNCFL, Steinmetzdemeyer, Transports Hein Sarl, UNITED CAPS LUXEMBOURG, Vevalo Group, Waagner-biro Luxembourg Stage Systems Sa, Webasto Luxembourg S.A., Wellington Management Luxembourg Sarl, Wizata S.A., Zortify SA